Walker Concept 240+280!
The Walker Concept is made of a super strong PVC "All Weather" material; both sides coated and washable. Whether you find yourself pitched for a month or the entire season strength in canvas is essential. All windows of the Concept do have window blinds with zips. Both side panels have full ventilated side mesh windows. All roofpoles are steel 28mm. The Walker Concept is available with a projection of 240 cm or 280 cm. As an option there is the Patio front suncanopy or the Castel front suncanopy. The Patio front suncanopy is specially designed for those caravanners who have their awning on a seasonal pitch. The special heavy duty steel frame, with extra roof bars, make it a very strong canopy. All sleeves for the poles are fitted with zips. The Patio is supplied with 2 zip out side panels with window as standard. Easy-PowerGrips, stormstraps and curtains for the sidewalls are optional at extra cost. The Castel front suncanopy is specially designed to provide extra shade to relax when you are sitting in front of the awning. With the optional Castel Plus-package you will be able to put it on the caravan directly.
Annexe for Concept
Ground: 215 x 140 cm. Weight: 15 kg. Provided with door and fly screen panel. All Walker annexes are equipped with an extra zip, so the awning's side panel can be used as a partition wall. Optional: inner tent available. Ground: 200 x 140 cm.
Features
Depth: 240 0r 280 cm
Roof: PVC All Wheather, both sides coated: 525 g/m2
Walls+window blinds: PVC All Wheather, both sides coated: 450 g/m2
Frame: All steel roof poles are 28 mm, others are 25 mm. Easy PowerGrips available at extra costs
Double mudflap around the awning
Ventilation: in the ridge to the front and in both sidewalls
All windows with window blinds with vertical zips
Panels: all panels can be rolled down or zipped out; sidepanels are interchangeable
Front walls exchangeable: Easy-Door!
Weight: size 900 cm approx. 60 kg
Easy-Setup lock pads: included!
Draught cloth + wheel arch cover: included!
Fits aerodynamic shaped caravans
Guarantee: 24 months

Easy PowerGrips
Optional on steel frames at extra costs.
Type 885-960: 10 pcs; extra costs £ 42,-
Type 975-1020: 12 pcs; extra costs £ 50,-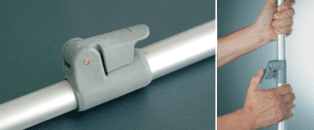 Optional extras
Pricelist
Walker pricelist: Concept 240 with steel frame
Type

A-measurement

List Price £

DISCOUNT PRICE £

885*
870-900
1782,-
1336,-
900
886-915
1782,-
1336,-
915*
900-930
1826,-
1369,-
930
916-945
1826,-
1369,-
945*
930-960
1882,-
1411,-
960
946-975
1882,-
1411,-
975*
960-990
1960,-
1470,-
990
976-1005
1960,-
1470,-
1005*
990-1020
2015,-
1511,-
1020
1006-1035
2015,-
1511,-
1035*
1020-1050
2072,-
1554,-
1050
1036-1065
2072,-
1554,-
1065*
1050-1080
2104,-
1578,-
1080
1066-1095
2104,-
1578,-
1110
1096-1125
2283,-
1712,-
1140
1126-1155
2283,-
1712,-
1160
1146-1175
2283,-
1712,-
Annexe with door+ventilation window
294,-
220,-
Annexe with door+ventilation window
312,-
234,-
Annexe with door+ventilation window
327,-
245,-
Annexe with door+ventilation window
483,-
357,-
Inner tent for annexe
110,-
82,-
Easy-Lock stormstraps, 2 pcs.
–
16,95
*Walker factory tailored sizes
Walker pricelist: Concept 280 with steel frame
Type

A-measurement

List Price £

DISCOUNT PRICE £

885*
870-900
1995,-
1496,-
900
886-915
1995,-
1496,-
915*
900-930
2034,-
1525,-
930
916-945
2034,-
1525,-
945*
930-960
2115,-
1586,-
960
946-975
2115,-
1586,-
975*
960-990
2180,-
1635,-
990
976-1005
2180,-
1635,-
1005*
990-1020
2228,-
1671,-
1020
1006-1035
2228,-
1671,-
1035*
1020-1050
2288,-
1716,-
1050
1036-1065
2288,-
1716,-
1065*
1050-1080
2338,-
1753,-
1080
1066-1095
2338,-
1753,-
1110
1096-1125
2530,-
1897,-
1140
1126-1155
2530,-
1897,-
1160
1146-1175
2530,-
1897,-
Roof lining 885-930
310,-
232,-
Roof lining 945-1020
327,-
245,-
Roof lining 1035-1160
343,-
257,-
Annexe with door+ventilation window
483,-
357,-
Inner tent for annexe
110,-
82,-
Easy-Lock stormstraps, 2 pcs.
–
16,95
*Walker factory tailored sizes